Factsheet
Genre:
Retro Puzzle/Platform Game

Platforms:
Windows
Mac OS
Linux

Number of Players:
1 to 8

Steam Release date:
Thursday June 9, 2016
(also Humble Bundle Store)
Developers:
Original DINO EGGS author David H. Schroeder, working with long-time DINO EGGS fan Eric Ferrot of Luxembourg
Website:
dinoeggsrebirth.com
Facebook:
facebook/dinoeggsrebirth
New Video:
DINO EGGS: REBIRTH
2013 Video:
&quotThe DINO EGGS Story&quot
YouTube Channel:
DavidSchPT
General Information /
Technical Support:
David H Schroeder
david [A T] olympus [D O T] net
Description
DINO EGGS: REBIRTH is a celebration and expansion of the best-selling 1983 home computer game DINO EGGS (Apple ][, Commodore 64, IBM) -- in which Time Master Tim travels to prehistoric times to rescue the dinosaurs from extinction.
---
Features
We've worked hard to maintain the classic platform feel of the original DINO EGGS -- while building in LOTS of new levels, puzzles and features.
Here's what we've packed in:
Forty new skill levels of wide-screen arcade action.
Four new time eras -- Outlands -- Swamplands -- Stone Age -- Ice Age.
Multiplayer for up to eight. Play to outscore each other, or play to outlive each other!
Five new species of baby dinosaurs to hunt and capture. They fly! They sleep! They flee you! They charge you!
New types of eggs, boulders, power flowers and fires. Can you discover how to get an extra life?
Over 25 chapters of a surprise-filled story "Secrets of the Time Quartz."
Over 30 puzzling Dino Dilemmas, plus bonus d

ilemmas that

unlock after completing the story.
Two graphic skins, one by original author David Schroeder, and one by Jamo Games pixel artist James Biddulph.
An enhanced re-creation of the 1983 Dino Eggs: Classic.
Support for English, French, Spanish, German, and Dutch.

And -- as always -- an infinite number of random prehistoric landscapes to explore.
---
New! Steam Release Features
Steam Achievements, Cloud Saves, and Leaderboards for all high scores, game progress, and other statistics.
Two-person co-operative multiplayer, added to the wide range of competitive multiplayer modes already in the game.
Two additional languages -- Italian and Japanese.
New background graphic options to better recreate the feel of the original game, including Classic 8-bit Black.
---
History
Author David H. Schroeder in the 1980's...
In 1981, David Schroeder taught himself 6502 assembly language and wrote several best-selling home computer games, including CRISIS MOUNTAIN and DINO EGGS. Through the 1980's his games were published for Apple ][, Commodore 64 and other systems by MICRO LAB, RANDOM HOUSE, AMERICA ONLINE, and BRODERBUND SOFTWARE.
And now, a third-of-a-century later...
In response to fan email from around the world, Schroeder is now reviving his classic games. DINO EGGS: REBIRTH is the result of a partnership with French programmer Eric Ferrot, who -- in 1983, at the age of 10 -- became a fan of the original DINO EGGS on the Apple ][.
See the author's "memoir" blog as Featured Posts on Gamasutra... They begin here...
---
Fan Quotes about DINO EGGS (1983)
"Your games rocked! They had this polish to them that very few others had."
- M. C., Ontario, Canada
"My entire family was addicted to DINO EGGS. We would stay up until 2 a.m. playing and fighting over whose turn it was."
- P. Yardley, Pennsylvania
"Your games became my favorite. I love your games because they are everlasting."
- J. L., Hong Kong
"DINO EGGS impressed me the way the 3D perspective did in HADRON. As a game-maker I've tried to emulate that drive you demonstrated in my own art. DINO EGGS continues to influence the way I create to this day."
- Jason, AtariAge Forums
"Your games were incredible and important to the industry."
-- Facebook post by John Romero (Doom, Wolfenstein 3D)
---
Fan Quotes about DINO EGGS: REBIRTH (2016)
A TON of fun! All the new puzzles and levels are great. I'm going to get so many hours and hours of playing time out of this, I love all the new things to explore and figure out. Thank you for this amazing labor of love!
"Dear David, CONGRATULATIONS!!!! I was testing a few minutes the game and is AWESOME !!! I'ts funny and beautiful !! I'm so happy, and thrilled !!:)"
"First of all, David... WOW ! I am really enjoying this remake of the game."
"A joy to test and play through! You are creating some awesome fun that I think many will be able to enjoy !"
"I'm having the time of my life with this game and memories from decades ago. Just the right amount of challenge and exactly in the spirit of the original game. Thank you, thank you, thank you !"
---
Videos
New Video -- DINO EGGS: REBIRTH On YouTube
---
2013 Video -- &quotThe DINO EGGS Story&quot On YouTube
---
Images
download all screenshots & photos as .zip (20MB)
There are more images available for DINO EGGS: REBIRTH. If you have specific requests, please do contact us!
---
Logo & Icon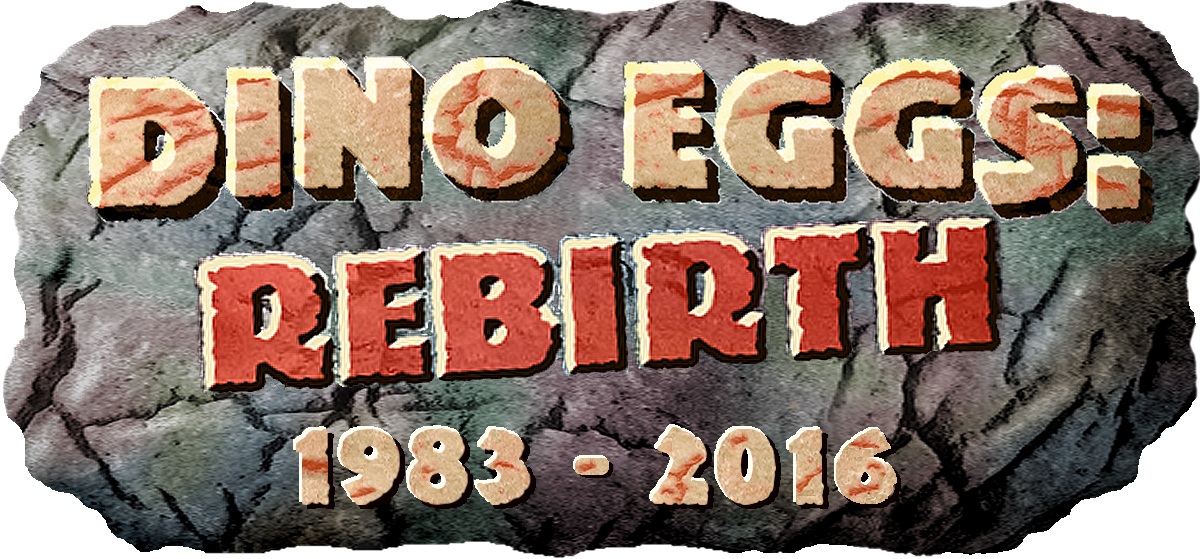 ---
Awards & Recognition
"Top Ten Best-Seller for the Apple ]["-- Softalk Magazine, 1983
"Voted one of Reader's Top 100 Favorite Games"-- Softalk Magazine, 1984
"Your games were incredible and important to the industry." -- Facebook post by John Romero (Doom, Wolfenstein 3D)
---
Team
David H. Schroeder
Original Author, Designer, Artist, Composer
Port Townsend, WA USA
Website
Eric Ferrot
Programmer, Designer
Luxembourg, Europe
(Ten years old when original DINO EGGS came out)
James Biddulph
New Retro Art
Jamo Games
Birmingham, England, U.K.
Contact
General Information /
Technical Support:
David H Schroeder
david [A T] olympus [D O T] net
Website:
dinoeggsrebirth.com
---
presskit() by Rami Ismail (Vlambeer) - also thanks to these fine folks